Our First Lady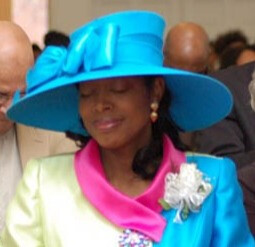 Myrlene Petit-Frere Davis is a native of Haiti. She grew up in North Miami, Florida where she attended North Miami Beach Senior High School. As a high school student, she was a member of the Future Business Leaders of America (FBLA). In 1987, she entered Miami Dade Community College where she received her Associate of Arts degree in Psychology. In 1990, she entered Florida State University where she earned her Bachelor of Science degree in International Affairs with a minor in Public Administration. While at Florida State University she served in student government as a Lobbyist and Public Relations Coordinator. She also served as President of the Haitian Cultural Club at Florida State University.
Mrs. Davis received extensive training and worked at the Telephone Counseling & Referral Services (TCRS) in Tallahassee Florida as a Counselor. She is a translator of Creole to English and has worked for Berlitz International Incorporated in Snead, Florida. She has been the host of 'Kids, Minutes' on WLQY 1320 AM radio station in Hollywood, Florida. Her work experience also includes Computer Operator and Credit Decoder with CBI EQUIFAX, Incorporated in North Miami Beach and Case Manager with Jobs for Miami. Mrs. Davis was a certified Substitute Teacher in Leon County and worked for the Florida Department of Transportation (FDOT) in Outdoor Advertising. She served as an Administrative Assistant with the Florida Department of Environmental Protection (FDEP).
She has a special place in her heart for the marginalized, vulnerable youth and abused women as shown by her volunteer work with the Leon County Shelter for abused women and children. She strongly believes in the foundation of the family! Her Motto is "Strong family equals strong church and strong community."
Mrs. Davis joined the First Baptist Church in Williamsburg in 2004 to co-lead the congregation as the First Lady. She serves as a Primary Grade Sunday School Teacher and volunteers in the Grove Community outreach food distribution ministry. After months of extensive training Mrs. Davis was commissioned as a Stephen Minister in July, 2016. She has served on the School Board of Directors at the Williamsburg Christian Academy for six years and is currently a Home Manager.
First Lady Davis and Pastor Davis met at the Jerusalem Missionary Baptist Church in Tallahassee while they were both students at Florida State University. They married in December 1994 and are blessed with three children - Isaac, a graduate of William and Mary and talented film producer; Nandi, a college student at Mary Washington; and Joel, an elementary school honor student here in Williamsburg.