History

The First Baptist Church of Williamsburg was organized in 1776, with a quest by a group of courageous slaves and free blacks who wanted to worship God in their own way.
First led by Rev. Moses, a free black itinerant preacher, they built a brush arbor* at Green Spring Plantation, a few miles from town, to gather secretly in song and prayer.
Organized as Baptists by 1781 under Rev. Gowan Pamphlet, an enslaved man in Williamsburg, worshippers moved to Raccoon Chase, a rural area just outside Williamsburg. Moved by their stirring hymns and heartfelt prayers, a member of the Cole family, Williamsburg landowners, offered the group the use of his carriage house on Nassau Street for a meeting place. Pamphlet continued as pastor until his death about 1807.
The African Baptist Church, as it became known before the Civil War, dedicated a new brick church near the carriage house on Nassau Street in 1856, the congregation's church home for the next 100 years. In 1863, the church was renamed the First Baptist Church of Williamsburg. The present church at 727 Scotland Street has served the congregation since 1956.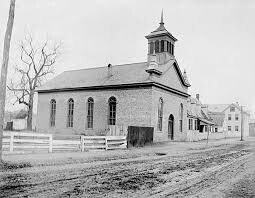 _____________
*Brush arbor - A clearing in the woods with posts secured in the ground around the cleared area and across the top. Open spaces around the sides and top were filled with small limbs and branches to hide the gathering from view and shelter worshippers from the elements.
---
The formation and enduring legacy of one of the oldest African American congregations in the nation is captured by
Dr. Tommy L. Bogger,
Director of Archives, Norfolk State University in the pages of:
Since 1776: The History of First Baptist Church of Williamsburg Virginia
Learn how courageous slaves and free black worshippers left the sanctuary of their brush arbor to openly profess Baptist doctrine and established a church that has flourished for over 230 years.
BOOKS ON SALE NOW - Price $20.00
Call (757) 229-1952 for more information
All proceeds to First Baptist Church
---