Living History - 2021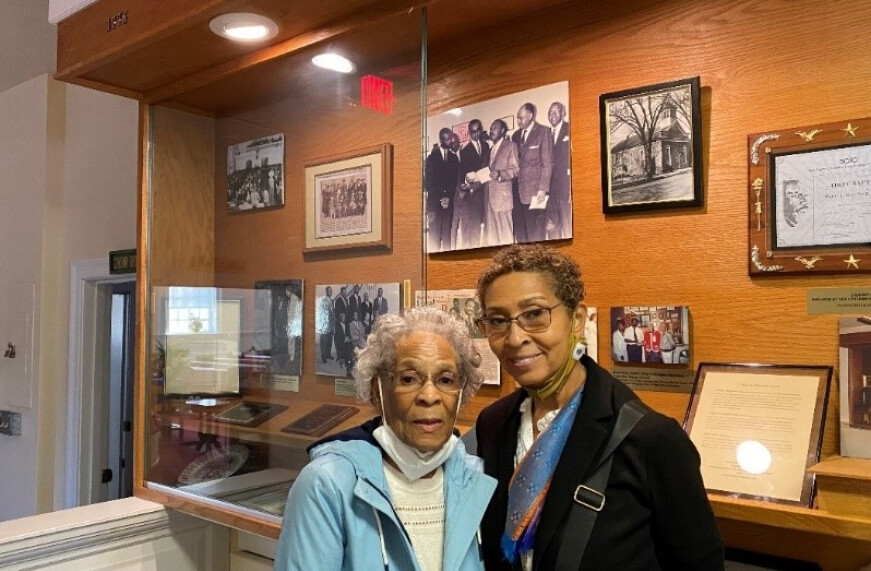 On this past sunny Tuesday afternoon standing on the church grounds talking to Sister Connie Harshaw and Brian Bailey, our Church Administrator, we were approached by a woman, Patrice Walker Powell, who said that she was told by the Colonial Williamsburg Foundation to come to our church to bring her 93-year young mother in search of a photo of her father. The church building was still closed to visitors, but after she told us that she had traveled from Chester, Virginia to bring her mother who really, really wanted to see if the photo was on display in our church, we contacted our Chairman of the Trustees to get special permission for her to enter the building to see if we had such a photo. Once in the building she confirmed that the photo she was searching for hangs on the wall of our church in the glass display case and her beloved husband is shown on the immediate right side of Dr. King's during his visit to our church in June 1962. His name is Reverend Wyatt T. Walker and at that time he was the Chief of Staff for Dr. King. There they both were, on the wall of our church in a photograph taken at our church during that historic visit.
Wyatt T. Walker (1929-2016) was a double graduate of Virginia Union University, He also held a doctorate from Rochester Theological Center. Reverend Walker, a prolific author was considered a leading authority on the music of the African-American religious experience. His first pulpit was at Gillfield Baptist Church in Petersburg. Later in New York's Harlem community, he established a record of urban ministry as the pastor (for 37 years) of Canaan Baptist Church of Christ. He was a respected theologian, human rights activist and cultural historian. For several years, he served as Chief of Staff to Reverend Dr. Martin Luther King, Jr. while both were with the Southern Christian Leadership Council (SCLC) in Atlanta and later served as Special Assistant to Governor Nelson Rockefeller of NY, as an Urban Affairs Specialist. His human rights work and clerical leadership carried him to 100 countries."
His wife's name is Mrs. Theresa Ann Walker and she was a freedom rider, arrested in Mississippi while fighting for our civil rights. She and her daughter are members of Gillfield Baptist Church in Petersburg, but wanted to make sure that she visited our church while in Williamsburg. Gillfield Baptist Church is the second-oldest black Baptist congregation in Petersburg, Virginia and one of the oldest in the nation. It was organized in 1797 as a separate, integrated congregation.